CommerceIQ Publishes Insights from Prime Big Deal Days 2023
Day One Predictably Saw Lower Revenue Than Prime Day 2023, Though Average Selling Prices Showed Slight Gains
CommerceIQ Analysis of Prime Big Deals Day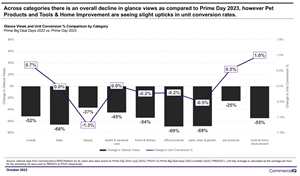 PALO ALTO, Calif., Oct. 10, 2023 (GLOBE NEWSWIRE) — CommerceIQ, the leading retail ecommerce management ("REM") platform, today released its analysis of the first 10 hours of Prime Big Deal Days 2023, which took place Oct. 10, 2023, from 12 a.m. to 10 a.m. PST.
Amongst the findings:
Prime Big Deal Days 2023 ("PBDD23") presents an incredible sales opportunity for brands, seeing upwards of a 4.59x increase in hourly ordered revenue and an increase of 4.87x to 20.76x in hourly glance views when compared to the preceding 28-day hourly average Sept. 12, 2023 to Oct. 9, 2023.
Similar to last year when comparing Prime Day 2022 ("PD22") to the Prime Early Access Sale 2022 ("PEAS22"), PBDD23 is a smaller event than Prime Day 2023 ("PD23"). In the first 10 hours of October 10, PBDD23 delivered 54.6% lower ordered revenue as compared to the first 10 hours of PD23 on July 11. Ordered Units and Glance Views are also pacing behind Prime Day 2023 by 36% and 52%, respectively, over the same time period.
CommerceIQ has observed a 0.7% increase in Unit Conversion percentage in the first 10 hours of the day. Coupled with a decreased relative drop in Ordered Units, average selling prices appear to be higher for PBDD23 vs. PD23 as one potential key driver for this observation. This could be an indication of an increase in baseline prices or lower discount percentages during PBDD23.
While revenue is down across the board when comparing PBDD23 to PD23, Beauty, Health & Personal Care, Pet Products, and Tools & Home Improvement can be considered "winners" as they have seen relatively lower declines than the overall average between these two tentpole events.
Similarly, in terms of overall traffic, Beauty, Health & Personal Care, and Pet Products are seeing relatively lower declines in glance views when comparing PBDD23 to PD23.
The data is based on a compilation of anonymized data from the CommerceIQ REM Platform, which handles more than $30 billion of sales from global consumer brands that sell on retail ecommerce channels such as Amazon, Walmart.com and Instacart.
"While Prime Big Deal Days 2023 is pacing slower than Prime Day 2023 on sales and traffic, it remains one of just a handful of sales events throughout the year proven to boost sales incredibly for brands on Amazon," said Guru Hariharan, CEO of CommerceIQ. "In fact, we are observing upwards of 4.59x increase in hourly sales when comparing to the rest of September, signaling to brands that Prime Big Deal Days is an event not to be missed in 2023."
CommerceIQ will continue to deliver Prime Big Deal Days 2023 analysis in the following days and weeks. To stay up to date, please visit the CommerceIQ blog.
About CommerceIQ
CommerceIQ is the leading retail ecommerce management (REM) platform for consumer brands to plan, monitor and execute their businesses and profitably grow market share across 650+ global online retailers. CommerceIQ's unified REM platform brings together every aspect of a brand's retail ecommerce business: sales and operations, retail media management, content management, and digital shelf optimization, to create a single source of truth. CommerceIQ's machine learning and automation enable brands to connect organizational silos, power team efficiencies, and drive measurable sales impact. More than 2,200 brands globally, including Nestle, Colgate, and Whirlpool, trust CommerceIQ to manage and grow their retail ecommerce businesses across global retailers including Amazon, Walmart, and Instacart. For more information, visit https://www.commerceiq.ai.
BOCA Communications for CommerceIQ
[email protected]
A photo accompanying this announcement is available at https://www.globenewswire.com/NewsRoom/AttachmentNg/d3918290-2162-4a6c-83d2-ad3497402090

Disclaimer: The above press release comes to you under an arrangement with GlobeNewswire. TheTechOutlook.com takes no editorial responsibility for the same.